About
The SAY Award is a prestigious and exciting arts prize produced by the Scottish Music Industry Association (SMIA), with confirmed partners for 2017 including Paisley for UK City of Culture 2021, Creative Scotland, TicketWeb and PPL. The award celebrates, promotes and rewards the most outstanding Scottish albums released each year. Respected by artists and valued by the industry, The SAY Award is responsible for a surge in musical discovery and an explosion of impassioned debate on social media. The SMIA is encouraging artists, labels and the general public to submit eligible albums released between 1 April 2016 and 31 March 2017.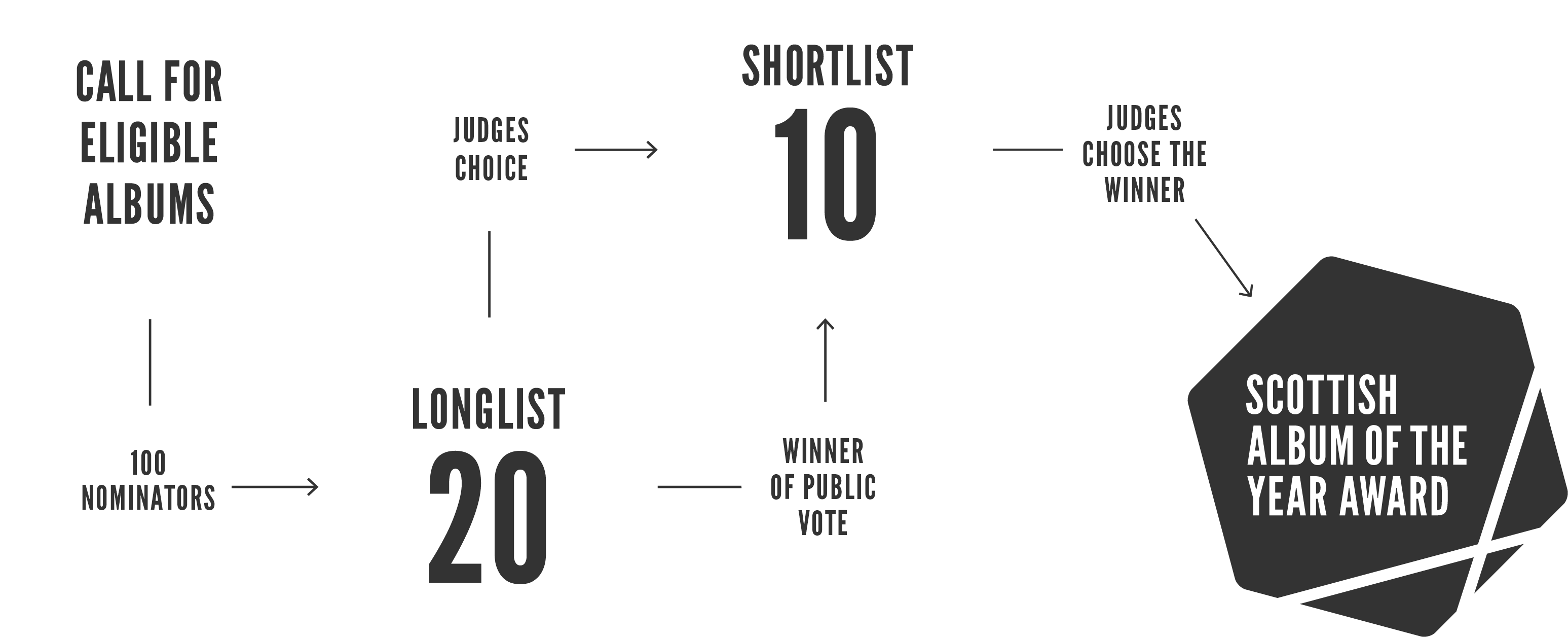 Once all eligible albums have been collated, 100 impartial 'Nominators', chosen from press, radio, music venues, jazz, classical, traditional folk, retail and elsewhere in the arts, will consider titles from The SAY Award's Eligible Album List, nominating their five favourite albums and ranking them in order of preference. The 20 highest scoring albums will make up The SAY Award Longlist for 2017, announced on May 24th. The Longlist will be further whittled down to a shortlist of 10 albums, one of which will be chosen by the public during a 72-hour public vote (12-14 June) and the others decided by a panel of prestigious judges. The SAY Award 2017 Shortlist will be announced on June 15th as part of a BBC Quay Sessions show, with the award ceremony then taking place on June 28th in the surroundings of Paisley's elegant Town Hall, in support of Paisley's bid for Paisley to become UK City of Culture 2021. The winning artist will pick up a £20,000 cash prize, provided by long term Award partner Creative Scotland. The 9 runners up will each be awarded a £1,000 prize, as well as an exclusively designed piece of artwork from the SAY Award Design Commission.
Key Dates
1 March 2017
The SAY Award 2017 Launched
Artists, labels and the public are invited to submit eligible albums released between 1 April 2016 and 31 March 2017 on The SAY Award website.
24 May 2017
The SAY Award Longlist Announcement
100 impartial 'Nominators' consider titles from our Eligible Album List and the 20 highest scoring become The SAY Award Longlist for 2017.
12 June – 14 June 2017
The SAY Award Public Vote
Everyone is invited to take part in an online vote, choosing one of ten spots on The SAY Award Shortlist.
15 June 2017
The SAY Award Shortlist Announcement
Our 11-strong judging panel consider the Longlist, choosing the remaining 9 title on The SAY Award Shortlist.
28 June 2017
The SAY Award Ceremony
Our judging panel reconvene for the ceremony and decide who picks up the £20,000 first prize and coveted title of Scottish Album of the Year.
SAY Award Design Commission
Alongside The SAY Award's warm welcome to Paisley for 2016 and 2017, we were delighted to partner with Incube Renfrewshire to find this year's SAY Design Commission Winner. Partnering with Invest in Renfrewshire's new business incubator. With no set parameters or restrictions on format, artists and designers were encouraged to think creatively about the connection between art and music or the context of Scottish art and music within their proposals.
Partners
The Scottish Music Industry Association (SMIA) is a trade body based in Glasgow that was set up in 2008 to foster, promote and serve the best interests of Scotland's music industry. Their membership encompasses individuals and organisations working across all sectors of Scotland's music industry, including artist managers, promoters, record labels, studios, artists, distributors and more. The SMIA has two core objectives, to both strengthen and champion Scotland's music industry, and they do this through a variety of projects each year. These projects include training events such as workshops and master classes, sector meet-ups, and their biggest project, The SAY (Scottish Album of the Year) Award, Scotland's national music prize. The SMIA also lobby government on behalf of its members, as well as offer informal support, such as by doing introductions to new contacts and companies. 
Paisley 2021 bid for Culture Paisley's bid for UK City of Culture 2021 will use the town's unique and fascinating story to transform its future — by putting the town in the international spotlight, attracting visitors, creating jobs and using culture to make people's lives better.
The one-time global textile hub and birthplace of the Paisley Pattern is also home to stunning architecture, an internationally-significant museum collection, Glasgow Airport, University of the West of Scotland, West College Scotland, PACE Theatre Company and a thriving contemporary cultural scene.
The UK City of Culture competition is run by the UK Government. The shortlisted cities will be announced in spring 2017, and the winner at the end of the year. Find out more about our story at a href="http://www.paisley2021.co.uk">www.paisley2021.co.uk.
Creative Scotland is the public body that supports the arts, screen and creative industries across all parts of Scotland on behalf of everyone who lives, works or visits here. We enable people and organisations to work in and experience the arts, screen and creative industries in Scotland by helping others to develop great ideas and bring them to life. We distribute funding provided by the Scottish Government and the National Lottery. For further information about Creative Scotland please visit www.creativescotland.com. Follow us @creativescots and www.facebook.com/CreativeScotland
TicketWeb started in 1995 as small group of music fans who wanted to build a truly DIY ticket site dedicated to shining a light on the freshest new acts. After launching in the U.S., Canada, the UK & Ireland we soon became the go-to ticket seller for independent promoters and venues on both sides of the Atlantic. Two decades later and we're still proud to be part of that scene but now we also work directly with the artists who fill those venues to make it even easier for real fans to get into their shows. Find out more at http://www.ticketweb.co.uk.
PPL is the music licensing company which works on behalf of record companies and performers to license recorded music played in public (at pubs, nightclubs, restaurants, shops, offices and many other business types) and broadcast on TV and radio across the UK. Our members include major record labels and independents as well as globally successful performers and session musicians, ranging from orchestral players to percussionists and singers. PPL also operates an international royalty collection service helping members to get paid when their music is played internationally. http://www.ppluk.com @PPLUK.