The Process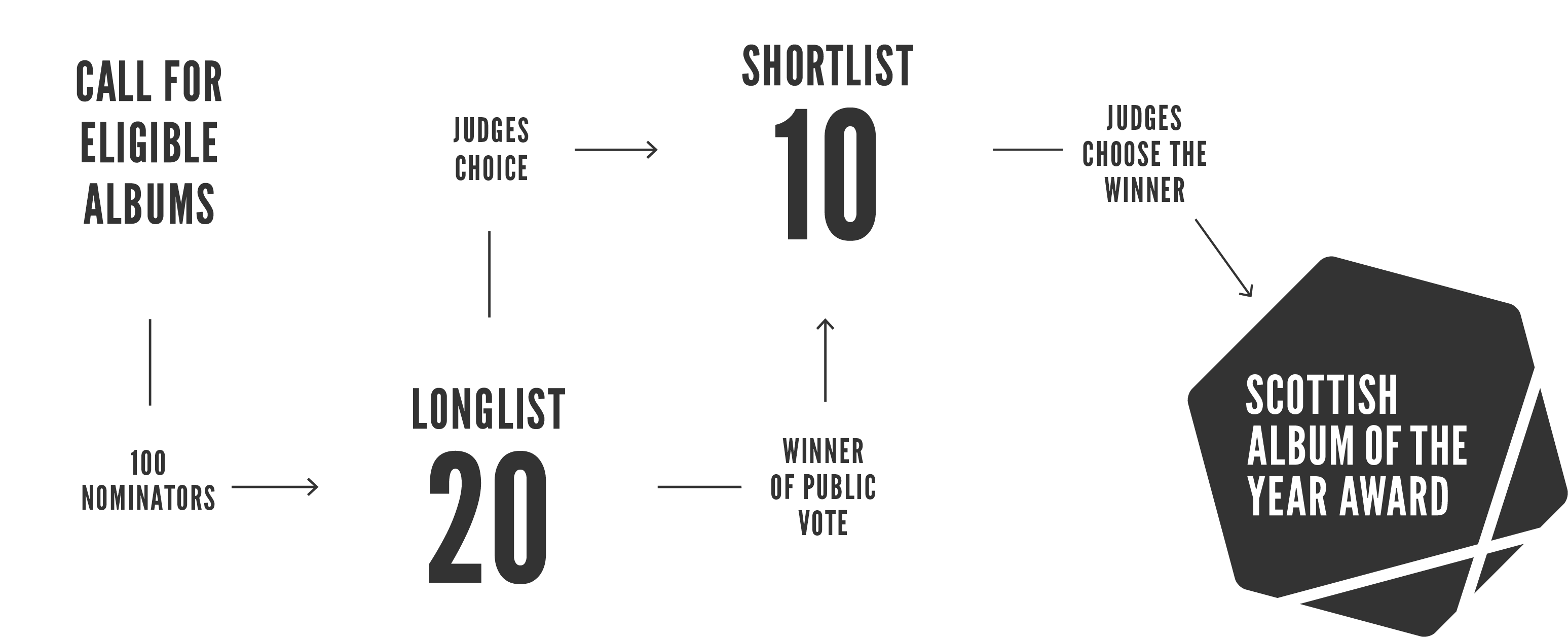 The SAY Award is a prestigious and exciting arts prize produced by the Scottish Music Industry Association (SMIA), with confirmed partners for 2017 including Paisley for UK City of Culture 2021, Creative Scotland, Black Bottle, TicketWeb and PPL. The award celebrates, promotes and rewards the most outstanding Scottish albums released each year. Respected by artists and valued by the industry, The SAY Award is responsible for a surge in musical discovery and an explosion of impassioned debate on social media. The SMIA is encouraging artists, labels and the general public to submit eligible albums released between 1 April 2016 and 31 March 2017.
Once all eligible albums have been collated, 100 impartial 'Nominators', chosen from press, radio, music venues, jazz, classical, traditional folk, retail and elsewhere in the arts, will consider titles from The SAY Award's Eligible Album List, nominating their five favourite albums and ranking them in order of preference. The 20 highest scoring albums will make up The SAY Award Longlist for 2017, announced on May 24th. The Longlist will be further whittled down to a shortlist of 10 albums, one of which will be chosen by the public during a 72-hour public vote (12-14 June) and the others decided by a panel of prestigious judges. The SAY Award 2017 Shortlist will be announced on June 15th as part of a BBC Quay Sessions show, with the award ceremony then taking place on June 28th in the surroundings of Paisley's elegant Town Hall, in support of Paisley's bid for Paisley to become UK City of Culture 2021. The winning artist will pick up a £20,000 cash prize, provided by long term Award partner Creative Scotland. The 9 runners up will each be awarded a £1,000 prize, as well as an exclusively designed piece of artwork from the SAY Award Design Commission.
Eligibility Criteria
Qualifying Period
Albums must have been released between 1st April 2016 and 31st March 2017.
Album Definition
Albums must consist of previously unreleased material. Re-issues, multi-artist compilations, 'Best Of' collections and live albums (largely featuring previously released material) are ineligible. Albums must contain 6 or more tracks and/or be over 30 minutes in length. All genres of music are eligible for the SAY Award.
Release Definition
An album (as defined above) must have been made available for purchase in Scotland by the general public for the first time during the qualifying period through any of the following outlets: any high street music retailer; digital retailer, record label or artist website (including Bandcamp, social media etc.). Free downloads (with the artist's express consent) will also be eligible.
Scottish Artist Definition
For the purposes of this award, albums will be deemed to have been recorded by a 'Scottish Artist' when: the artist was born in Scotland; at least 50% of the band's core members were born in Scotland (session musicians will not be considered); an artist or band, irrespective of nationality, has made their creative base in Scotland for the past 3 years. NB. In some cases e.g. classical albums, composers as wells as performers may satisfy the conditions for eligibility.
Key Dates
1 March 2017
The SAY Award 2017 Launched
Artists, labels and the public are invited to submit eligible albums released between 1 April 2016 and 31 March 2017 on The SAY Award website.
24 May 2017
The SAY Award Longlist Announcement
100 impartial 'Nominators' consider titles from our Eligible Album List and the 20 highest scoring become The SAY Award Longlist for 2017.
12 June – 14 June 2017
The SAY Award Public Vote
Everyone is invited to take part in an online vote, choosing one of ten spots on The SAY Award Shortlist.
15 June 2017
The SAY Award Shortlist Announcement
Our 11-strong judging panel consider the Longlist, choosing the remaining 9 title on The SAY Award Shortlist.
28 June 2017
The SAY Award Ceremony
Our judging panel reconvene for the ceremony and decide who picks up the £20,000 first prize and coveted title of Scottish Album of the Year.