WELCOME
On behalf of the Scottish Music Industry Association (SMIA), I'm delighted to welcome you to the Scottish Album of the Year (SAY) Award 2020 Ceremony; a virtual event for the first time in history.
Watch the The SAY Award Ceremony 2020 live as a YouTube Premiere this Sunday night – 1 November– at 6pm:
https://www.youtube.com/user/SAYaward
The SAY Award is proud to celebrate the passion, strength and diversity of Scotland's music scene at a time it's never been more important to. Tonight's programme, co-hosted by Vic Galloway and Nicola Meighan – will shine a spotlight on the 10 outstanding albums making up 2020's SAY Award Shortlist, as well as feature live showcase performances from four of the most exciting emerging acts in Scotland.
As we celebrate our music scene tonight, it's important to also be aware of the fact that Scotland's music industry is facing catastrophic challenges at present, and the live sector in particular is in urgent need of financial support; especially with the furlough scheme closing at the end of this month. With live music completely shut down, artists are struggling to sustain themselves, music businesses are closing, jobs are being lost, and with those losses, skill-sets are leaving the industry too. The very infrastructure of what generated £5.2 billion for the UK economy in 2018 is crumbling, and if it's not supported now, it will vanish, and the impact will be sorely felt for decades to come – not just by the music industry, but by all of us who benefit from having music in our lives. Campaigns including #LetTheMusicPlay, #SaveOurVenues and #WeMakeEvents have been doing vital work to highlight the scale of the challenges - and just how essential it is that additional support is given - particularly to those whose income is dependent on the live sector. There will be more information on each of these campaigns in tonight's show, and we wholeheartedly encourage you to support them.
There are no easy answers just now, and as the situation continues, Scotland's music industry remains at significant risk - not least because of its strong reliance on people coming together to create or experience music, as well as its high level of self-employment.
So tonight's virtual Ceremony comes with a key message - which is that, now more than ever, it's crucial that we all celebrate music in every - and any - way we can. We need to champion its visibility, highlight its life-changing value, and promote as many opportunities as possible - now, more than ever.
In the absence of live events, we're delighted to connect with you all remotely this year, as we come together to celebrate of each of the 10 incredible albums making up this year's Shortlist, and find out which album will take the coveted title of Scottish Album of the Year and the £20,000 first prize.
A huge congratulations, and best of luck, to each of this year's Shortlist. Thank you for your incredible recorded output, which contributes to the invaluable music scene that we all love and cherish.
We hope you enjoy the show. Join the conversation online using #SAYaward, and we're @SAYaward across all socials too.
Here's to Scottish music!
Robert Kilpatrick
General Manager, Scottish Music Industry Association (SMIA)
Campaign Director, Scottish Album of the Year (SAY) Award
PERFORMING ARTISTS
ZOE GRAHAM
Still only 22 years old, the musician has developed a knack for refining those universal emotions into electronic pop that wears its heavy heart on its sleeve. Speaking to both memories of the past and hopes for the future, Glasgow-based songwriter Zoe is set to announce her arrival as one of the UK's most exciting new artists with her forthcoming EP Gradual Move.
KAPIL SESHASAYEE
Kapil is a polymath, and a true original talent, both as a songwriter and as a soundsmith, a one man combination of Scott Walker, Blood Orange, Arca and Richard Dawson, creating something wholly unique. Combining electronica flourishes evoking FKA Twigs with Indian Classical guitar ornamentations, stunning vocals and a penchant for unorthodox instrumentation such as the aquaphone, Kapil manages to be truly experimental yet still accessible.
HAPPY SPENDY
Happy Spendy are a DIY pop band from Glasgow. Since forming in 2017 the synth-pop purveyors of feelgood sad songs self-released their debut EP You Look Lovely in 2017 and follow-up Take Care of Yourself in 2018. DIY described their first EP as "a big fuzzy pop hug" and Gold Flake Paint said it was "a true hidden gem". Since then they have had the time of their young lives supporting some of their favourite artists like Self Esteem, Swearin', The Spook School, The Vaselines and Lomelda. In 2019 they joined the Lost Map Records roster and released their new single 'Feelings 2' which has had radio play on BBC 6 Music and BBC. Radio Scotland.
VLURE
VLURE defy the rules, rip up the trends and create new ones. With a certain honesty and a manic vulnerability, they confront you and get under your skin. They make you feel things, the way music should. The Glasgow five piece blur the lines between live electronics, jarring guitars and the performance sensibilities of their post punk contemporaries. Synth laden hooks and club influenced rhythms find their way twisting around emotionally confronting lyrics. Their dedication to audience engagement and chest pummeling presents itself in an intense, yet life affirming live show. Debuting as a live project, the group made their first appearance at 2019's The Great Escape Festival in Brighton; holding life to account in the basement of The Queens Hotel, and in the halls of 'Showcasing Scotland's One Church. Since then, the band have taken their set to UK festivals and showcases across the calendar, selling out a string of hometown headlines in Glasgow and another in Edinburgh.
PRESENTERS
Nicola Meighan
Music Writer & Broadcaster (The Herald, The Quietus, BBC Radio Scotland)
Vic Galloway
BBC Broadcaster, Journalist, Musician & Author: 'Songs in the Key of Fife' & 'Rip It Up – The Story of Scottish Pop'
DESIGN COMMISSION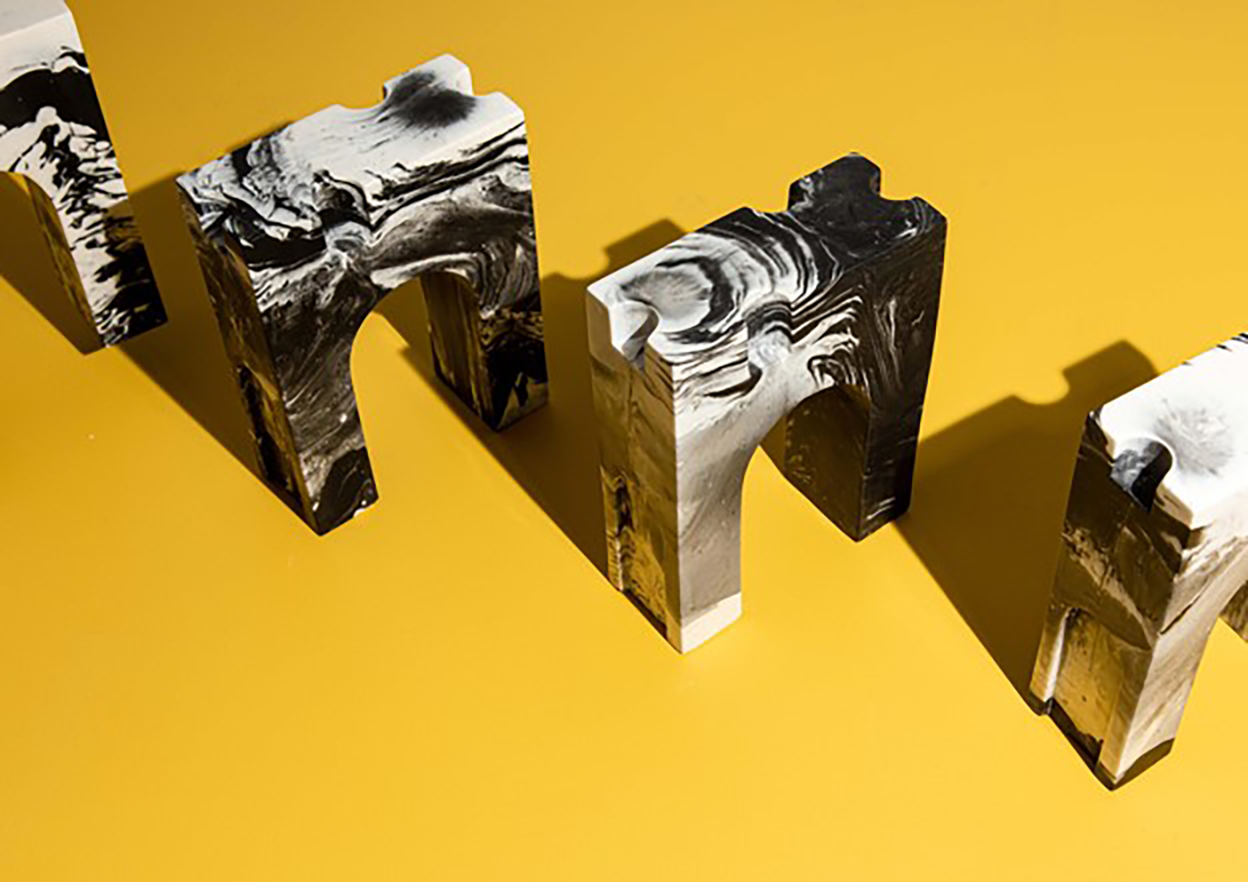 The SAY Award Design Commission, curated by Local Heroes, highlights the enduring links between music, art and design and this year's award, fittingly titled 'Triumph' and created by Rekha Barry, will be a lasting celebration for all 10 Shortlisted artists of their album's outstanding achievements. The striking arches are cast in black and white marbled jesmonite with a smooth polished finish and also double as a candle holding table centrepiece. Each Shortlisted artist will collect their bespoke 'Triumph' trophy, along with a prize of £1,000.
Speaking about the design, designer and architect Rekha Barry said:
"Being asked by Local Heroes created a brilliant challenge for me, as the intention was for it to have a dual purpose – both award and candle holder. I wanted to create something which was a celebration of the musician's achievements, and felt great to hold but also was a functional piece of design anyone would be happy to have in the home.
Thinking about how an artist might feel when they've been shortlisted for The SAY Award, I immediately thought of triumph. A triumphal arch is a great reference for me as it is a piece of architecture and a sculpture at the same time. I would like to think that my designs can also be found between these two things. Coming from an architectural background, my first point of reference is always buildings. I am influenced by the forms and proportions of classical architecture and creating modern interpretations of this.
I was also inspired by The SAY Award 2020 host city of Edinburgh. Archways are the perfect motif for expressing this city and can be found everywhere. The material I use (jesmonite) when buffed and polished, gives an amazingly smooth stone-like feel which is representative of the city's fabric."