LONGLIST 2022
Declan Welsh and The Decadent West
— It's Been A Year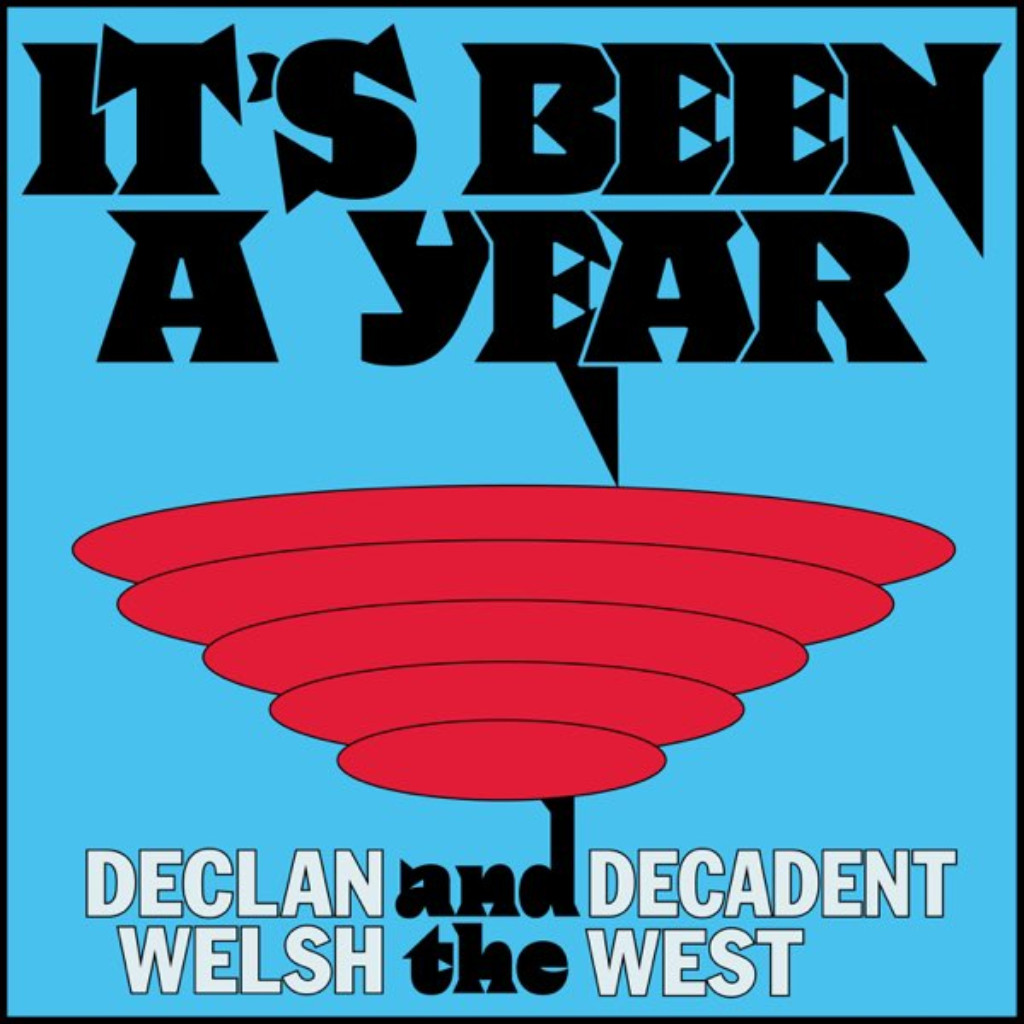 Label: Frictionless Music
Released: 2 September 2021
Declan Welsh and The Decadent West
Declan Welsh and The Decadent West are a band from Glasgow with a focus on intelligent, relatable lyrics, catchy hooks and an electric live show. A prolific writer, Welsh and his band (Duncan McBride - Guitar, Ben Corlett - Bass and Murray Noble - Drums) have already released 4 EPs and 1 Album to critical acclaim, receiving a SAY Award nomination for their debut Cheaply Bought Expensively Sold, as well as BBC Introducing Track of The Week for its opener No Fun.

Being championed by the likes of Jack Saunders, Billy Bragg and Arielle Free, the past 3 years saw them tour relentlessly to promote CBES, with the band already racking up appearances at Glastonbury, Isle of Wight and TRNSMT Festival (UK), Reeperbahn Festival (Germany), Bet Lahem Live (Palestine), Oberkampf Festival (France) and many more. This, combined with sold out headline shows and support shows with the likes of Twin Atlantic, Echo and The Bunnymen, Squeeze and The Proclaimers has seen DWDW garner a reputation as "The Future of Scottish Rock Music" (Courier), with Jack Saunders of Radio 1 commenting that "No one knows how to whip up a mosh pit like DWDW. I know - I've been in the centre of one!"

With over 3m streams on debut album anthem "Absurd" alone, and radio play from Radio 1, Radio Scotland, Radio X and more, DWDW remained prolific during lockdown, where they released 3 EPs. In the absence of touring, this has allowed them to retain their connection with fans, while expanding their catalogue of sing along, festival ready anthems. Songs from these EPs and their debut have been featured in other media extensively, from Times use in Tennent's Dedicated to You campaign, to Do What You Want's use in Teatum Jones' opening of London Fashion Week, DWDW are excited to collaborate with creatives in all fields.

Insightful, introspective, intelligent songwriting has defined the post CBES chapter of DWDW's output, and it is this ability as a songwriter that attracted the attention of Mercury Prize winning producer Gianluca Buccaletti (Arlo Parks, Biig Piig, Easy Life) who has said "I've been waiting a long time to work with a band like DWDW". With Luca, the band recorded their 2nd album and have described it as "The best thing we've ever done".

Lead single from their long awaited second album, Mercy, is scheduled to drop on the 4th October '22, coinciding with the bands biggest ever headline show in their Glasgow hometown's iconic Barrowland Ballroom. After coming through the hardships of a global pandemic together, they are ready to make up for lost time. 2023 is theirs.
It's Been A Year
The EP is a bit of a combination of music that we had worked on a bit as a band just before the pandemic hit (see you around, talking to myself, another one and Parisian friends) and stuff I had written on ableton while we were in lockdown (Off at one, Vladimir). I think what runs through all of them musically is this emphasis on melody, layering and space. Harmony is really important in the songs, as is the idea of having more than one vocal or lead part.

I don't really set out to write about anything specifically when I sit down with a song, I try and go with what the song sounds like to me. But I think your environment massively influences what comes out, and this EP has v strong lockdown energy. Another one is obviously directly about that experience, but I think every track is about either looking in through the glass at the outside world, or being totally in your own noisy head. Each song goes in a few different directions, lyrically and musically, and I think again that reflects the feeling in lockdown of going through every single emotion every single day.

Despite it being very of its time, I still think the songs have a universality that I am proud of. Everyone has felt these emotions, and maybe the only upside of a global pandemic where everyone was locked inside is that there can be no doubt now that we all live very similar lives. And it's that kinda empathetic constant truth that's the reason art can connect with people. All of these songs are about characters, people that yer meant to relate to and empathise with. Vladimir is about insecurity and failed relationships, Another one is about paranoia and longing, See You Around is about loss and hope, off at one is about monotony and release, Parisian friends is about feeling uncool and wishing you were like some fictional version of a person you've created in your head and talking to myself is about that desperate need we all have for someone to go "oh aye I've felt that low as well".

It's still a hopeful record, which is nice. I'm glad that came through. Almost as much for myself as anyone else. Hearing a bunch of people shout back to you "can you see where I'm coming from" when we do talking to myself is very reassuring. We're all going through some version of the same shit. The pandemic was just a very literal representation of that, and so this EP is shooting for something along those lines.

The production is something I should highlight, Marshall and Jamie (7West) as always do a remarkable job making everything so tight and fitting in the obscene amount of layered instrumentation in things like Off At One and Another One. We really love working w them.
LONGLIST 2022
Declan Welsh and The Decadent West
— It's Been A Year
Label: Frictionless Music
Released: 2 September 2021