LONGLIST 2022
Bemz
— M4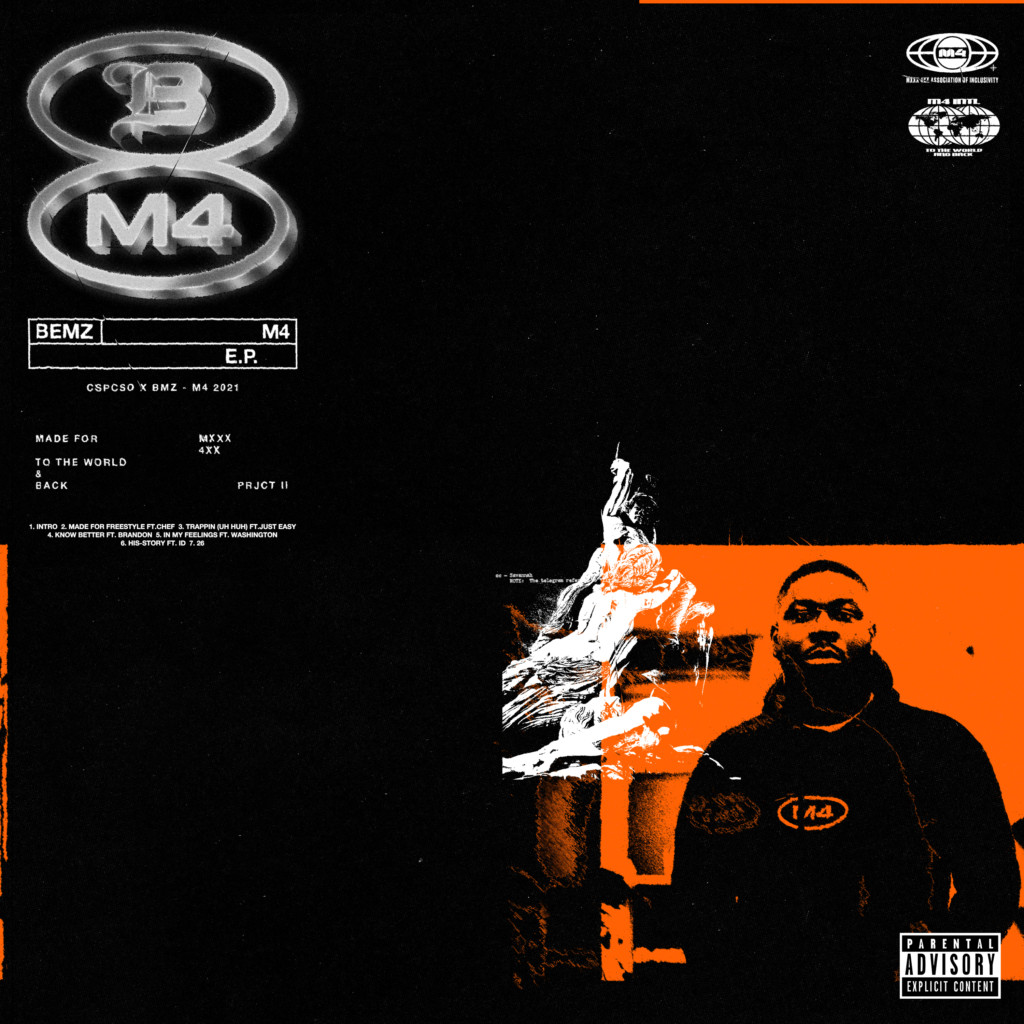 Label: M4
Released: 24 September 2021
Bemz
Bemz is a Glasgow based rapper, who is one of a number of artists helping to further establish Scotland as a bona fide hotbed for Black music, while also proving that rap's cultural reach stretches way beyond London and the English borders. Having first fallen in love with music through the usual childhood influences and inspirations, Bemz began experimenting with making his own sounds, primarily as a medium of self expression. Art and poetry were the precursors to his introduction to rap, be fore blossoming into a lifelong dedication with the artform itself. Bemz' strengths lie in the honesty within his music. He delivers a very raw, emotionally charged view of life, which never falls into the clichéd trappings that often come with that territory; truth is his asset.
M4
M4 follows 2020's celebrated EP Saint of Lost Causes. Released in October last year, the 7-track EP featured singles Flex and Suddenly and has recently been nominated for a SAY (Scottish Album of the Year) Award joining the Longlist which was announced this week. Like its predecessor, M4 traverses over a pristinely produced soundscape that constantly bends and flexes under the weight of Bemz' uncompromising story-telling.

Packed with tight lyricism that rolls effortlessly off his tongue, Intro takes the listener down a lane Bemz carved for himself. The following track M4 Freestyle ventures beyond what was a balmy, atmospheric opener to a new genre altogether. The drill-tinged track sees Bemz team up with Chef, attacking each verse with the technical ability and flow of two veteran MCs.

"I'm setting a president, applying the pressure and this is my evidence," Bemz guarantees in Trappin' (uh Huh). The third track on the EP and the latest single to drop from the EP sees Bemz running laps around unadorned beats while Just Easy bounces through a watertight chorus. Know No Better introduces a whole new sparkling sonic landscape to the EP with a polished R&B track that matches muscular bars with smooth production and the stellar vocals of South Lanarkshire-based vocalist Brandon Cutkelvin.

In My Feelings, featuring Glasgow-based rapper Washington, is an unguarded portrayal of inner turmoil. "Numb to the world, I'm trying to be something I'm not," Bemz burrows into his own introversion gruelling self-analysis, while Washington keeps the pace with his own inimitable flow. His-Story, features I.D, and seed the duo recount a breathless critique of the pressures that are ignited with unshakeable ambition.

M4 closes with 26. The first single to be taken from the forthcoming EP, 26 is a hazy, summertime heater that sees Bemz navigate his 26th year; through the anxieties of a global lockdown to the joy of becoming a new father. Produced by Rory James, 26 is ultimately a song about appreciating life.

With M4, Bemz further charts his rise to the forefront of Scotland's rap scene, finding strength in the EPs host of stellar features, brazen breadth of genres and his own unmistakable flow and easy charm.
LONGLIST 2022
Bemz
— M4
Label: M4
Released: 24 September 2021