The Process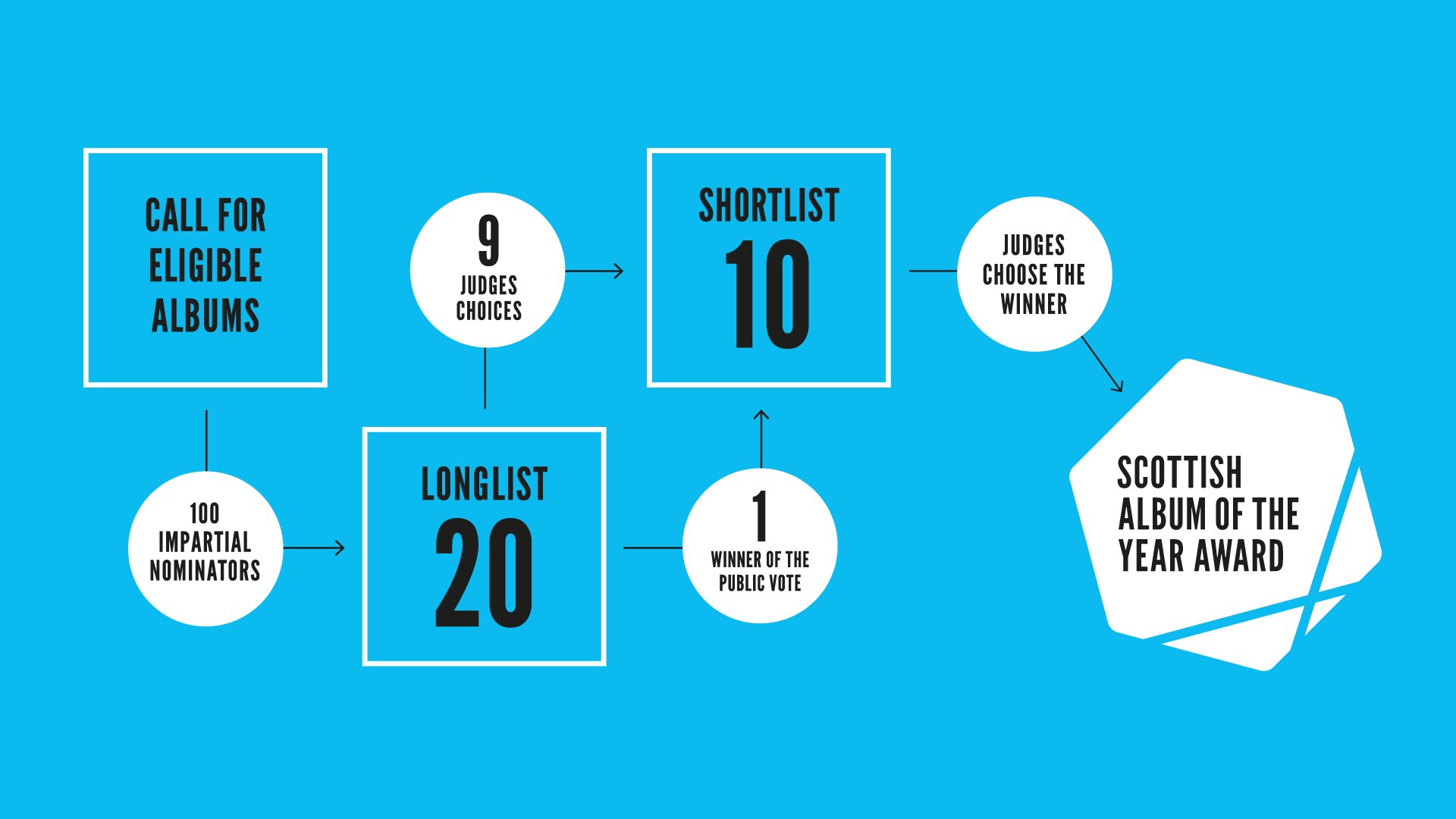 The SAY Award campaign launches with an open call for artists, industry professionals and music fans to submit eligible albums – for free – to sayaward.com. Throughout the submission period (01/07/22 – 22/07/22), albums are checked daily by the SMIA team, with those that meet the eligibility criteria being added to the Eligible Albums list.
Following the submission period drawing to a close, 100 impartial 'Nominators' – chosen from sectors including journalism, broadcast and radio, music retail and live music venues – are invited to consider the titles from the Eligible Albums list and nominate their five favourite albums in order of preference. The SMIA assigns a score to each title in a Nominator's Top 5 (#1 – 10 points, #2 – 8 points, #3 – 6 points etc.), before announcing the 20 highest scoring albums as The SAY Award Longlist. SAY Award Nominators comprise a diverse range of protected characteristics and cannot have a commercial interest in any eligible album. Largely Scotland-based, they include specialists in a variety of genres, such as jazz, classical, hip-hop, electronic and traditional folk, as well as key influencers from elsewhere in the arts.
The 20 outstanding Scottish albums that make up The Longlist are promoted across a two-week period through a range of activations. The Longlist is then whittled down to a Shortlist of 10 albums, one of which is chosen by music fans via a 72-hour online public vote, with the other 9 chosen by The SAY Award judging panel.
Previous SAY Award judges have included Edith Bowman (Broadcaster), Jackie Kay (Poet), Ian Rankin (Author), Craig Armstrong (Composer), Douglas Gordon and Susan Philipsz (Turner Prize winning artists) and Lynne Ramsey (Film-maker). This year's judging panel will be announced in due course.
Following the promotion of the Shortlist, The SAY Award Judging Panel reconvenes to decide which album should be awarded the £20,000 prize as well as the coveted title of Scottish Album of the Year. All Shortlisted albums are celebrated at The SAY Award Ceremony, where the winner is announced and each artist receives an exclusively designed prize from The SAY Award Design Commission.